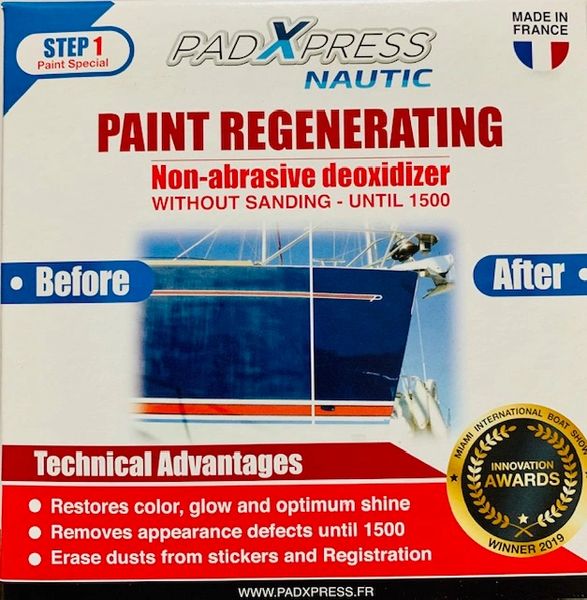 PADXPRESS, UNBELIEVABLE REVOLUTION IN THE WORLD OF POLISH
PadXpress is a polishing foam with an integrated reservoir, which attaches directly to your polisher.
Ready to use, easy to apply, 4 to 8 times faster than a traditional technique, very economical, Eco-friendly (Polish on aqueous base) …
Whether you are an individual or a professional, you will be impressed by the results obtained instantly in 1 single pass.
Erase a scratch, revive a dull or oxidized paint or gelcoat, protect your boat from bad weather and the harsh marine environment , PadXpress has the solution.
Able to have a clear vision thru your clears or windows is a matter of safety, Padxpress Plexiglass renovator provides you optimal return of clarity.
Several times awarded in the world, the PadXpress Nautic range will allow you to renovate the hull of your boat, gelcoat or painted. Quick and easy to apply, you will renovate your 9 m boat in just 4 hours.
Below the PadXpress ceramic treatment is the world's most effective finishing and long-lasting protection solution for up to 12 months applied after the Padxpress paint/gelcoat regenerator.
Padxpress ceramic treatment also provides excellent protection on your vinyl marine upholstery